Announcement on the return of containers at Yantian Port and the holiday notice of warehouse in Sunny Worldwide Logistics
Polly Sunny Worldwide Logistics 2022-01-20 18:01:29
ATTENTION:
We just heard from the latest announcement issued by the public account of Yantian Port. At present, the port yard is seriously bursting. From 0:00 on January 21, 2022, only ETB-4 days (that is, within four days before the ship's expected berthing date) will be accepted for export gate.
The temporary restrictions on the terminal will also greatly reduce the capacity, and all vehicles will be loaded with heavy containers. Moreover, there is also the issue of returning the containers, and the heavy storage container has no capacity to return it. Due to the shortage of capacity due to the temporary closure of the terminal, subsequent orders may not be arranged as planned.
Therefore, the problem of returning containers at the terminal will generate additional drop-off and overnight charges! Please be NOTED.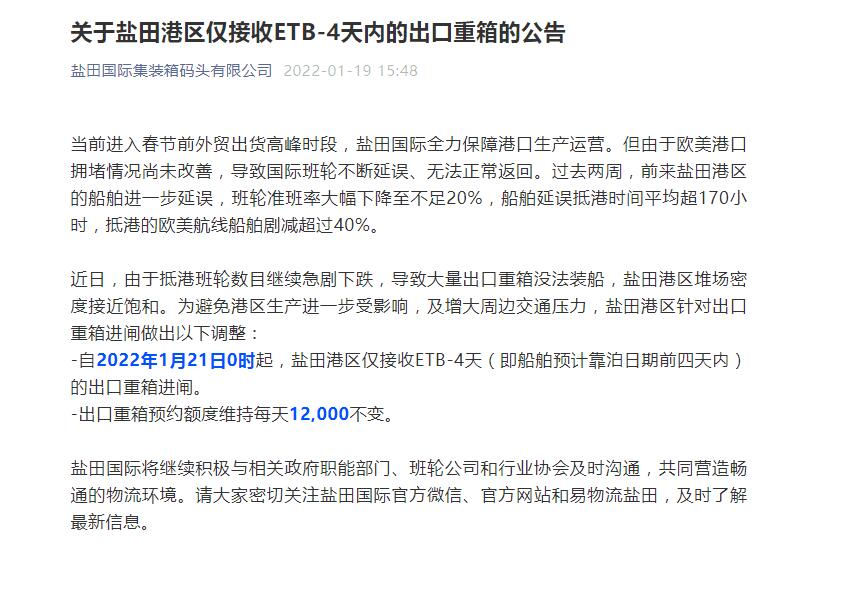 Sunny Worldwide Logistics warehouse Spring Festival Holiday Notice
Dear customers:
Our warehouse's schedule for the Spring Festival holiday in 2022 is as follows:
1. The Spring Festival holiday is from January 25, 2022 (the 23rd day of the twelfth lunar month) to February 7th (the seventh day of the lunar new year). 13 days off, and work normally on February 8 (the eighth day of the new year).
2. We will not receive and deliver goods during the holiday. We hope that everyone will arrange the time in advance and make plans.