The sellers exploded in place! Amazon Europe adjusted the FBA replenishment restriction policy, and the IPI index was increased to 500
Polly organized by Sohang App 2021-06-25 10:26:42
Since Amazon adjusted its FBA replenishment policy last month, it has changed from restricting the quantity of goods in warehouses based on ASIN to restricting the quantity of goods in warehouses based on storage types. Many sellers want to cry without tears, and they have had enough of the pain of restricting shipments.
A few days ago, Amazon Europe announced that sellers' products currently account for more than 60% of the inventory of Amazon's UK and EU fulfillment centers. Therefore, measures need to be taken to ensure that all sellers who use FBA have space to store their products and can receive inventory as soon as possible, especially before Prime Day.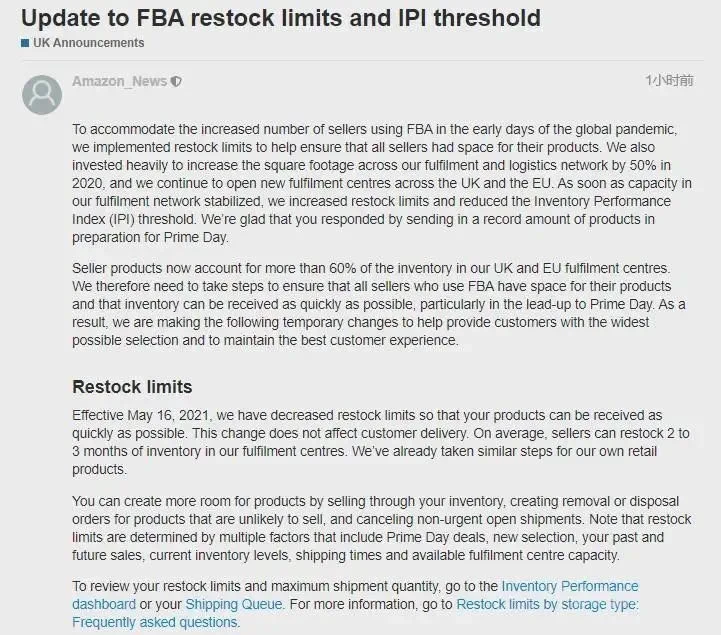 This adjustment includes two aspects, one is the update of the replenishment restriction policy, and the other is the adjustment of inventory performance indicators.
Sellers who maintain an IPI score of 500 or higher have unlimited storage of standard and oversized items. Monthly storage and long-term storage fees still apply, and all sellers (regardless of IPI score) are subject to replenishment restrictions.
Sellers whose IPI scores have not yet reached the standard can refer to the following suggestions:
1. Increase your sales rate
2. Avoid excessive inventory
3. Avoid huge storage fees
4. Proactively and promptly solve inventory replenishment and sales problems