burst! Starting today, the whole city of Yiwu, Zhejiang will be silent for 3 days! Vehicles are not allowed in or out! Freight forwarding and logistics suspend receipt of goods
Elena Sohang.com 2022-08-12 14:49:49
At 3:45 a.m. on August 11, "Yiwu Release" issued a notice, From 0:00 on August 11, Yiwu City will implement 3-day silent management.According to the notice, intercity traffic checkpoints will be strictly checked and controlled.Unless it is necessary, there is no righteousness, and unless it is necessary, there is no righteousness. Except for vehicles such as life protection, production protection, and anti-epidemic protection, other vehicles are not allowed in or out in principle. Detours for transit vehicles.
"Notice on Implementing Temporary Global Silence Management"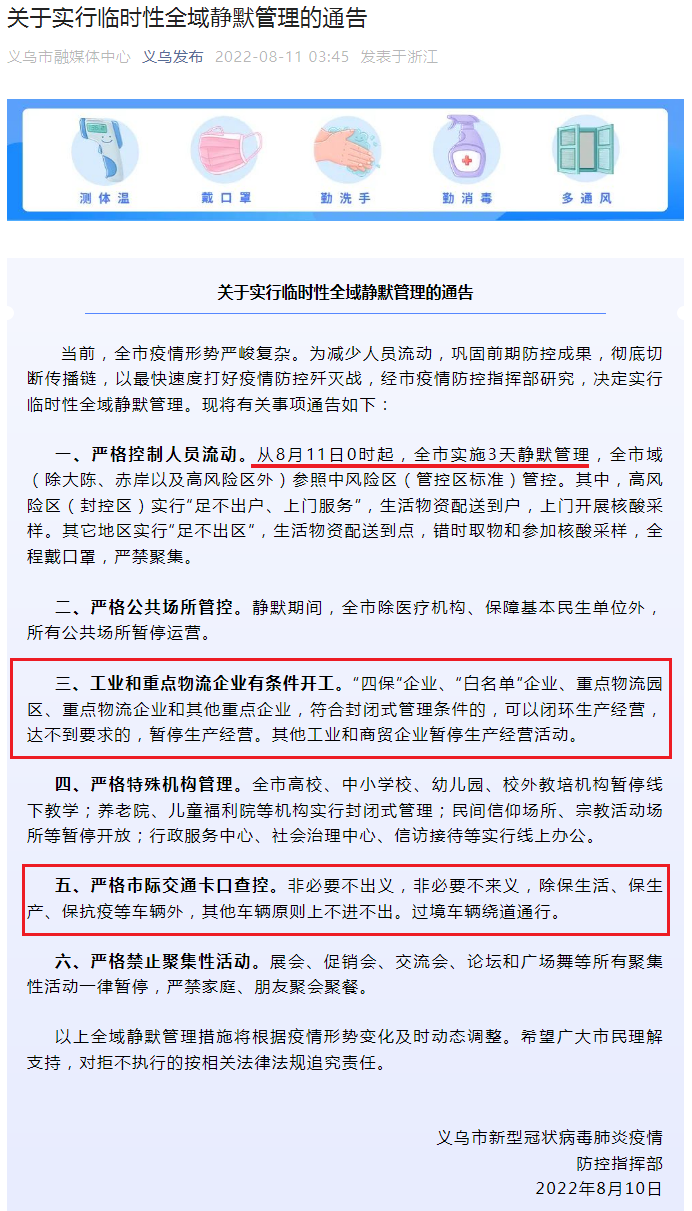 Yiwu, hit by the epidemic, has received special attention.The reason is that Yiwu is the world's largest distribution center for small commodities, as well as a national express logistics center.
Despite the impact of the domestic epidemic from March to May, Yiwu's foreign trade performance in the first half of the year exceeded expectations. Data show that in the first half of this year, Yiwu's foreign trade import and export value was 222.25 billion yuan, a year-on-year increase of 32.8%. Among them, the export was 202.95 billion yuan, a year-on-year increase of 28.3%, and the growth rate was 8 percentage points higher than that of Zhejiang Province.
Some foreign trade companies said that as early as a week ago, many e-commerce customers had stopped sales and shipments, and the impact of the epidemic was huge.A supply chain company in Yiwu that provides international logistics services for foreign trade companies has also all staff working from home. This time the city is silent for 3 days, and the export business of foreign trade enterprises will be more affected.
Some freight forwarding and logistics companies have notified customers that due to the epidemic control in Yiwu City, the city is silent, and Yiwu warehouses are currently suspended from receiving goods.

Here is a reminder,If there are related businesses in Yiwu recently, we should arrange shipments reasonably and be prepared for delays. We also invite colleagues from various industries such as freight forwarding, foreign trade, trailers, customs declaration, factories, etc. to understand each other and be considerate! ! ! Forward the knowledge~