HMM's net profit in the first half of the year increased nearly 16 times year-on-year! Global supply chains remain tight
Elena Sohang.com 2022-08-12 14:54:44
The performance report shows that HMM's total revenue in the first half of 2022 was 9.95 trillion won (.62 billion), an increase of 87% year-on-year; operating profit rose strongly to 6.08 trillion won (.66 billion), an increase of 153% year-on-year; Net profit was 6.06 trillion won (.64 billion), up 1,560 percent year-on-year.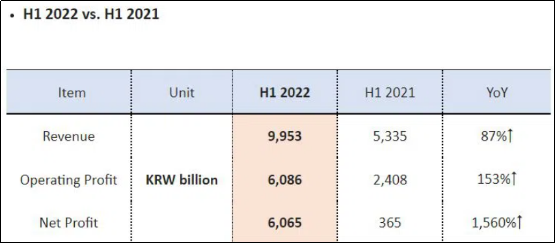 HMM said the company's earnings improved significantly in the first half of 2022, mainly due to high freight rates and efficient fleet operations. But it said high yields could come under pressure.
HMM said: "There is considerable uncertainty in the market, in addition to geopolitical tensions, mainly related to general inflation, higher oil prices and the new crown epidemic,Demand growth is expected to face downward pressure. "
The company added, "Global supply chains expected to remain tight in coming months", and port congestion "remains prevalent" around the world. HMM predicts,Continued congestion, especially in northern Europe, will be a factor in keeping container rates high.
Separately, HMM said it announced a mid-to-long-term strategy in July this year, "will actively work to meet future challenges and lay a solid foundation for sustainable growth."
As part of a growth strategy,HMM will invest more than .3 billion, which includes expanding its container fleet capacity from 820,000 TEU to 1.2 million TEU by 2026.Meanwhile, HMM's dry bulk fleet will increase from 29 to 55 over the next five years.
HMM said the expansion of the fleet was "climate-friendly", but gave no further details. Additionally, HMM aims to be climate neutral by 2050.