93000 cubic meters! The world's largest dual-fuel liquefied gas ship was undocked at Jiangnan Shipbuilding
Elena Souhang.com 2022-11-21 18:46:52
The reporter learned from Jiangnan Shipbuilding (Group) Co., Ltd., a subsidiary of China State Shipbuilding Corporation, that a 93,000-cubic-meter very large liquefied gas carrier (hereinafter referred to as "VLGC") and a 24,100-container container ship (hereinafter referred to as "TEU") on the 18th At the same time, the Jiangnan shipbuilding was launched. The two ships are currently the "world's largest" among their respective ship types. Among them, 93,000 cubic meters of dual-fuel VLGC made its world debut.
Gas ships and container ships constitute Jiangnan Shipbuilding's two main civilian product production lines at present. The two ships that are scheduled to be undocked this time are the first ships in the series, and they will float and shift in stages on September 22 this year.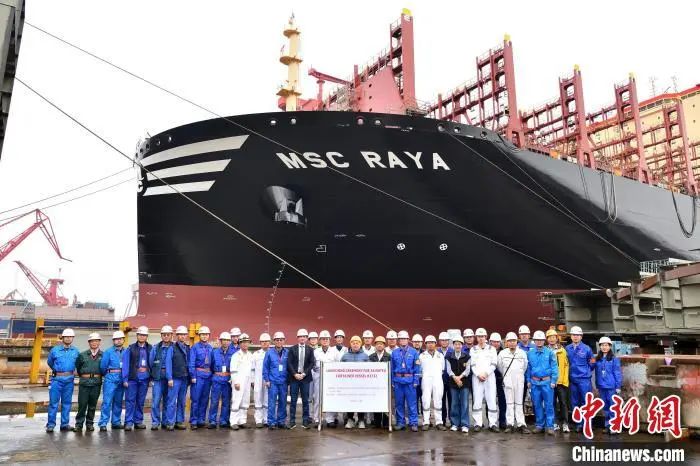 It is reported that the 93,000 cubic meters of dual-fuel VLGC launched this time will officially start construction in July 2021. Singapore shipowner Petredec has placed an order to build 6 VLGCs of the same type. This type of ship is the fourth-generation VLGC ship type (Panda93P) independently developed and designed by Jiangnan Shipbuilding. It is currently the largest dual-fuel VLGC in the world. It has excellent and balanced performance under the conditions of liquid cargo loading with different specific gravity and different specific gravity.
In addition, the 24,100TEU that was undocked and launched at the same time is also the container ship type with the largest packing capacity and the largest load capacity in the world currently under construction. At the end of 2020, Jiangnan Shipbuilding has undertaken a total of 4 orders of 24,100TEU, and the first ship in the series will be undocked this time. The ship is equipped with a hybrid desulfurization device, which adopts the world's latest environmental protection, high-efficiency, energy-saving and safety technology design. Its small bulbous bow scheme, large-diameter propeller and energy-saving conduit and other devices help to further exert the ship's fast and fuel-saving performance.
It is worth mentioning that another half-ship of the same series of VLGC was floated simultaneously on the 18th, and the giant ring section at the bow and the half-ship at the stern of the follow-up ship of the 24100TEU series will be aligned in a floating state.